Abst: The thickness of your shower door can make a huge difference in the overall look and durability of your shower. While 6mm glass is great for moderate...
The thickness of your shower door can make a huge difference in the overall look and durability of your shower. While 6mm glass is great for moderately used bathrooms, a thicker glass provides more durability and is a better choice for heavy-use bathrooms. A 10mm glass shower door is best for a busy family or high-use bathroom.
Sliding shower doors should be at least 6mm thick
A sliding shower door should be at least 6mm thick to be sturdy and safe. It is better to choose tempered glass over laminated glass to ensure a solid feel. Using tempered glass also ensures that it will break into smooth, oval pebbles instead of jagged pieces if it breaks.
Sliding shower doors are a superior option to hinged doors and look much more sophisticated. They are typically found in high-end hotels. They are not cheap but make your bathroom look more luxurious.
Hinged shower doors
Hinged shower doors are a great way to enhance a shower enclosure without breaking the bank. They feature a sleek stainless steel handle and water-tight closing mechanism. These doors also feature concealed fixings, making them a steal of a deal. As the door is 8mm thick, they are relatively heavy, but feel sturdy once installed.
Hinged 
8mm shower doors
are a great choice for smaller bathrooms, as they offer great entry and exit width. They pivot with smooth and easy-to-operate hinges. Diamond hinged doors have a total projection of 610mm when fully open, which is perfect for a bathroom with limited space. In addition, this style is great for installing in an alcove or against two walls.
Framed shower doors
Before you begin shopping for framed shower doors, make sure you measure the opening and the height of the walls. You can use a level to make sure the walls are level and plumb from the curb to the top of the enclosure. Be sure to record out of level measurements as well, as these are important when ordering a new door. Getting the exact measurements can help you plan your budget and get the perfect fit.
Framed shower doors are more cost-effective than frameless models, as they can use thinner glass. However, they can limit your range of motion and increase the risk of injury. Furthermore, the metal framing around the glass may corrode from the excess moisture. Also, soap scum may gather on the frame, which can result in mildew buildup.
Frameless shower enclosures
Frameless shower enclosures are a great option for people who want a clean, modern look. These enclosures are made from tempered glass and are available in a wide variety of styles, sizes, and colors. These shower doors also feature a heavy-duty silicone caulk seal and come with rubber sweeps to help keep water inside. They can be purchased in stock or custom made and require a professional installation.
They are also easy to clean, with fewer parts and less hassle. Framing can collect moisture and soap scum, and frameless shower doors have no such problems. Moreover, frameless shower doors are easier to replace if any part breaks. Unlike framed shower doors, you do not need to buy replacement parts from the manufacturer. Instead, you can find replacement parts in a broader selection of manufacturers.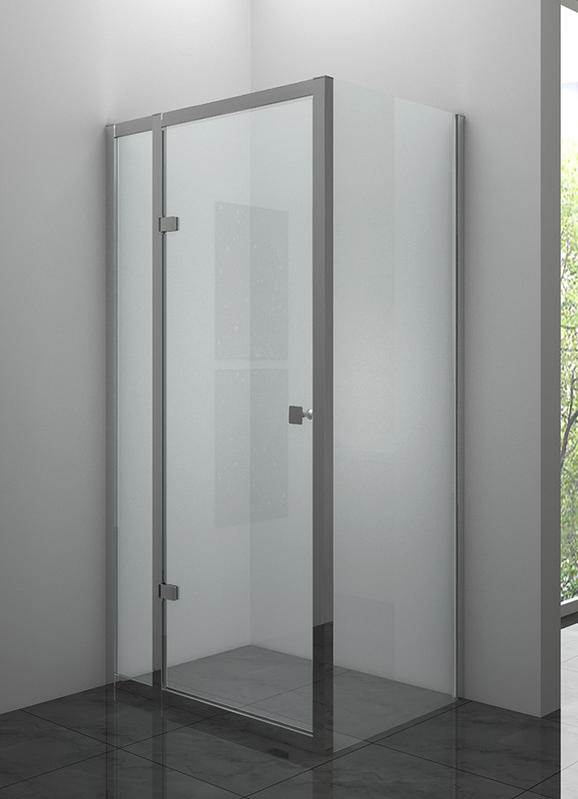 Framed shower doors with Invisible Shield
Invisible Shield glass shower doors come with a protective coating that makes them scratch-resistant. This feature makes cleaning them easy and convenient. The coating also repels soap residue, making your shower clean-up a breeze. And, because the barrier is invisible, bacteria cannot grow on it.
These shower doors come in a range of styles and colors. Those with the most detailed designs are more expensive than their counterparts. However, they are worth it if you are looking for an extra-clear view. They also are more difficult to install. Installing a frameless shower door may require specialized tools and special drill bits. The glass panel should be properly leveled before installation so that the glass doesn't sag.