Installing a custom framed glass shower enclosure or a frameless shower door adds class and a sophisticated touch to any home. A custom shower enclosure offers many benefits over buying an already framed shower enclosure. Custom Shower Enclosures When you update your shower, consider a custom framed glass shower enclosure, you add a touch of elegance to your bathroom that can be replicated by a standard shower. Shower Enclosures are available in a variety of styles and prices and can be installed by most do-it-yourselfers.
Frameless Shower Enclosure: One of the most popular choice for custom shower enclosures, frameless shower enclosures offer a contemporary feel with the elegance of a glass enclosed shower stall. The most popular enclosure style is the sliding shower doors with chrome trim and chrome hardware. This unique enclosure style provides a modern look with a sleek, modern feel. Most frameless shower doors have a chrome frame with tempered glass panels to give the best in privacy and durability.
Shower Enclosure with 6mm Clear Glass
: A six-mm clear glass gives the best visibility while showering, but may not be enough to protect your privacy and all-around vision when the shower door is opened. A six mm tempered glass is the strongest type available and the perfect choice for a shower enclosure. Shower Enclosures with 6mm clear glass also offer the advantage of having no molding or gaps, which makes the shower enclosure look clean and smooth.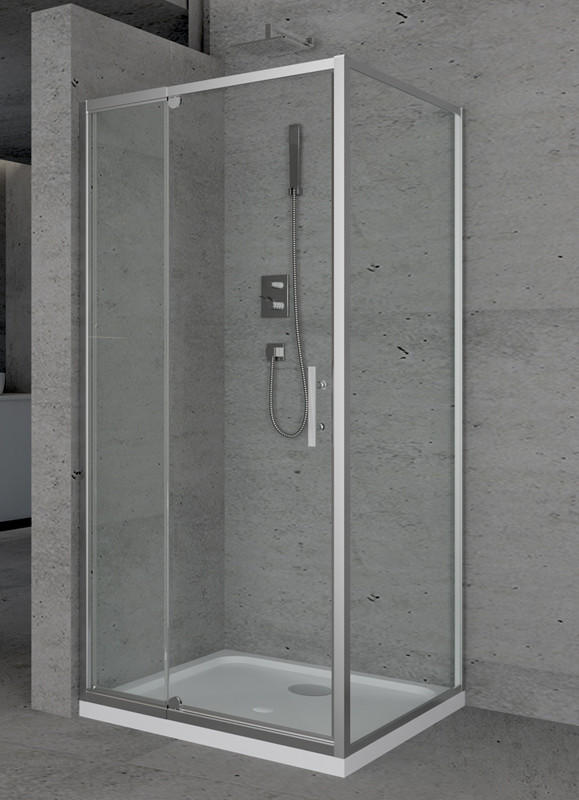 Sliding Enclosure with Hard-Body Base: Choosing a sliding shower enclosure with a hard-body base saves space but adds a tough, non-slip surface that is easy to clean. Installing a hard-body shower base requires a professional and can also add considerable cost to your installation. With a sliding enclosure, you install it yourself, eliminating the cost and installation fees of a professional. However, a hard-body base offers no style or class to the shower enclosure.
Shower Enclosure with Single Glass Panel: A single thick, high-quality glass panel offers the privacy of a homeowner wants and the durability of a frameless shower enclosure without the frameless look. Since one, thick glass panel doesn't have any gaps, there is no molding to degrade the beauty of the glass. Since there is no frame to support the glass, this type of shower enclosure looks clean, smooth and modern. Available in a wide variety of colors, sizes and thicknesses, this type of shower enclosure is an excellent choice.
Framed Shower Enclosures: Framed shower doors are available in both frameless and framed types to provide you with the best combination of style and security. These types of enclosures offer the look of a full-fledged shower enclosure with the durable durability of traditional glass panels. The most appealing aspect of these frameless doors is their contemporary look that fits well into any bathroom design. Whether you're looking for a frameless door that sits on the wall as a simple storage enclosure or you prefer a more ornate, Victorian-style door with intricate molding and glass panels, the shameless variety is a great alternative to other types of shower doors. Available in a wide variety of colors and glass thicknesses, these frameless doors are the perfect way to create a sleek, modern or country design theme for your shower.
Bi-Fold Shower Enclosures: Bi-fold shower doors are a unique variation on the standard bi-fold shower doors. Unlike bi-fold shower doors that fold in half, bi-fold shower doors fold in half when they are opened. The door is installed at the top of the frame and swings out when it's opened. These doors feature a frame-less glass panel that allows for water conservation and increased security.
Single Flush Enclosures: The sliding shower door is an innovative and revolutionary new type of shower enclosure. Using a single glass panel that slides in the center of a fully framed door, these models allow for a higher degree of privacy as well as greater levels of water conservation. These frameless shower doors are often designed with a clear glass panel that allows you to peer inside, providing an unobstructed view of the surrounding area. This type of shower enclosure features a slim line design that also offers a higher level of privacy than most other styles. Available in clear or frosted glass, the sliding shower door offers an unobstructed view of the room, while providing increased security.